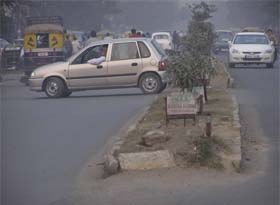 KENINGAU: Motorists here have urged the relevant authority to demolish the road divider in front of SM Ken Hwa here as it poses a danger to vehicles, especially at night.
They said the road divider measuring about 50 feet long, one foot high and 10 inches wide, was the cause of several near mishaps at the area.
"Several road users using the road at night nearly got involved in accident at the area. The road divider is not suitable to be built there," said one of the road users, James Piun, yesterday.
"I hope the relevant authority here could demolish the road divider before any accident occurs," he said.
James also proposed that signboard be put up at every roundabout in this district to warn road users to be careful when passing the area.
He said some of the signboards at yellow line which serves a similar the roundabouts are either too small or not located in strategic area that could be viewed easily by motorists.
District Officer Haji Zulkifli Nasir, when contacted, said the road divider should be demolished if it could cause accidents.
"The road divider was built for the convenience of parents and school bus drivers when sending and picking children from the school.

"If it is a danger to other road users, it has to be demolished and replaced with yellow lines which serves a similar purpose," he said.
On setting up warning signboard at every roundabout in this district,: Zulkifli supported the proposal.